From a very young age I had a fascination—some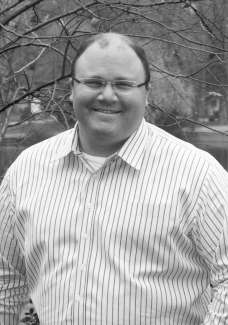 might say it bordered on obsession—with all things tech. Before it was chic, I was a technophile.
Early Beginning
Even back then, however, when it came to tech, I was unconventional. To me, technology meant augmentation and enhancement of the ways we do things not a replacement for them. When I realized that I would have to write thank you notes to the 450+ attendees at my bar mitzvah, I started with a mail merge.  Alas, not wanting to disappoint my parents, I ultimately hand wrote the final notes.
Not Just a Techie
Technology wasn't my only interest. I'm also interested in the law and in 2003 I went to law school. For my first job out of law school, the State of Colorado created a position for me as the State's first Death Penalty Law Clerk. I assisted judges with capital cases taking a chaotic system of jury management (summoned by the thousands for such cases) and writing custom management software that elegantly maintained order over the massive jury venire.
Where I Went, Innovation Followed
After leaving the courts I took a job at Springer & Steinberg, P.C., a 16-attorney litigation firm with cases spanning the United States. Though my primary role was criminal defense attorney, I managed IT for the firm, including administering 22 servers. After nearly seven years, I left the firm to start New Phase Innovations. The firm remains an innovation client to this day.
Coalescing the Future
For me, New Phase Innovations is, in many ways, the intersection of my experience as a lawyer and my love of all things tech. New Phase Innovations is a creative technology consulting firm. We are experienced in equipping client organizations and individuals with the right technology to do the job right. We are both visionaries and futurists.
As visionaries, we draw from decades of practical knowledge combined with an out-of-the-box thinking approach to every circumstance. As futurists, we look beyond the immediate horizon and consider what your opportunities and needs might be over time. We recommend and design strategies that will keep up with your growth, catapulting it even further.
Value-Added
As our clients will tell you, I have a tendency to give them a lot more than they've paid for; at New Phase Innovations we bring new meaning to the terms "value-added," "customer delight," and "raving fans." I love to share my knowledge and experience and to empower others to become confident in their use and understanding of technology. In that spirit, I will be taking to the blogosphere and sharing what I know.
Future Focused
You'll see posts in four areas:
the intersection of law and business with technology
new and emerging technology that has caught my attention
how technology is used in the workplace
step-by-step tutorials for leveraging the technology you have to accelerate your growth and profitability.
I'll be adding articles frequently, so stay tuned.
In my next post I'll be talking about one of those technologies that have caught my attention—an add-on for your iPad with all sorts of potential. You're going to want to check this out. It's very cool!
Don't forget to sign up for updates. If you enjoy my posts, please share. Also, if you have ideas for posts within my four categories, I'd love to hear from you. Don't forget to follow us on Facebook, LinkedIn, Google+ and Twitter.
'til then! Ariel
Ariel Benjamin
New Phase Innovations LLC
azb@newphaseinnovations.com
(720) 446-8782
Wait… you wanted more? How 'bout this:
The Eight Questions Every User Should Ask Themselves When Deciding to Open an Email Attachment or Click a Link
While there is no system to perfectly guarantee the safety and security of a user's use of email, asking these eight questions before taking action, will dramatically improve the odds.
1. Do I know this sender?
If you don't know the sender, there is a good chance the message contains something dangerous. While some mail from an unfamiliar sender may be safe, extra caution is necessary when the sender is a stranger.
2. Am I expecting this message?
If the answer is no, it wouldn't hurt to reach the sender directly to confirm that the sender meant to send the recipient a message. This rule also applies to the likelihood that the sender would contact you out of the blue. Your health insurance provider or bank are not going to suddenly send you confidential information about your account without you requesting it from them (and even then it is unlikely to arrive in an unencrypted email or by email at all).
3. Does the grammar and spelling in the message match what I would expect from this sender?
Malicious email often contains strange language patters. Is this a sender that you'd expect to use incomplete sentences? Do they usually struggle this much with spelling? Did they normally use text-message-shorthand in their emails (such as LOL or IMO)?
4. Is it sent just to me or to a random list of people?
It is not uncommon that spam is sent to a bunch of users, often with similar looking emails or from the same domain, even though the recipients wouldn't normally receive messages together from the sender.
5. Where does the link in the message really lead?
Sometimes the message obscured the link by using html to display a button instead of using the link itself as text. Hovering over the button will reveal the link. Right-clicking on the button allows the user to copy the link which can then be pasted elsewhere to be reviewed. Shortened links using sites like bit.ly or similar are also used to obscured the true destination. Websites like getlinkinfo.com will allow the user to discover where the the shortened or obscured link really leads.
6. Was the message sent at a time or on a day that makes sense?
Knowing this user like you do, is it really likely that they sent you this message in the middle of the night or on the weekend?
7. Does the attachment look like it matches the content of the message?
If the message says something like, "Would you take a look at this draft word document and tell me what you think?" but the attachment is an html file, chances are it is malicious.
8. Does the message claim the attachment is a single file (such as a word document), but the attachment is a compressed file (such as a zip file) which may contain more than a single file?
If the message tells you that the attachment should be a single Excel spreadsheet or Word document and it is instead something like a zip compressed file, be weary and check with the sender before opening.